RAMAR DEVIL Runlocks
The RAMAR DEVIL is a vehicle anti-theft device that allows the engine to be left running safely with the key removed from the ignition. The engine cuts out as soon as someone attempts to drive away without re-inserting the key in the ignition.
Ideal for :
→ law enforcement
→ emergency services: ambulances, fire brigade
→ breakdown assistance services
→ temperature-controlled and refrigeration vehicles (transport, deliveries)
where the engine provides the primary source of power.

Vehicles :
Cars | motorbikes | commercial vehicles | trucks & lorries
Power source maintained
The battery keeps charging and provides adequate power to :
→ Interior lights
→ radios
→ air conditioning (can be left for dogs)
→ refrigeration system
→ other ancillary equipment or electrical accessories
Anti-theft device
Without the key, the engine cuts out as soon as :
→ the handbrake is released
→ the foot-brake and/or the clutch is applied
→ or when the shift lever moves away from ´Park´ (automatic transmission)
Reliability
The RAMAR DEVIL has a long track record as a robust reliable cost effective way of ensuring vehicle security whilst in operation, simple yet effective.
Configurable
RAMAR also offers a bespoke service to configure the DEVIL runlock to match customer´s requirements.
Highway Code
This product must be used in accordance with the Highway Code and current legislation effective in your country relating to road vehicles.
DEVIL A0-2E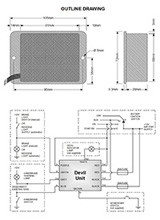 Highlights
• Simple installation
• Fully encapsulated
• Momentary push-to-make switch and optional runlock indicator lamp/LED not supplied : customer or vehicle specific
• End of line rig test : all units fully validated
• Generic wiring schematics guidelines and installation recommendations supplied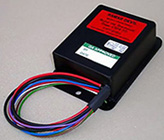 • 'E'-marked compliant to 95/54/EC and 89/336/EEC
• Approved for Emergency Vehicle Use by the Home Office VIDG
• 3-year manufacturer warranty
• Made in UK
Technical Specifications
Voltage
12V DC operation (24V version also available)
Outputs
◦ 2 separate 20A by-passes
◦ 1 ground output, which can be used for an Indicator Lamp/LED, or to drive another 10A ancillary
Inputs
◦ 2 battery +12V supplies (power supply to runlock and brake light switch)
◦ 1 ground input (handbrake)
◦ momentary switch input to ground
Dimensions
105 x 72 x 32 mm3
Weight
320gr
Temperature
-30°C to 85°C
DEVIL V10
New Runlock Generation
A programmable control system connected to the vehicle communication network. This device offers the same features as the DEVIL-A0 adapted to current vehicle technology:

→ vehicle communication network interface (CAN et LIN bus)
→ key-fob tray management
→ remote door locking while the engine is left running
→ simplified installation (within minutes)
The DEVIL V10 has been developped for the Volvo V70 and can be adapted to other vehicle platforms.
A More Flexible programmable anti-theft system
The engine cuts out when :
→ the engine speed is higher than a set value
→ the vehicle moves
→ the handbrake is released
→ the shift lever moves away from 'Park' (automatic transmission)
→ other specific conditions can also be conceived